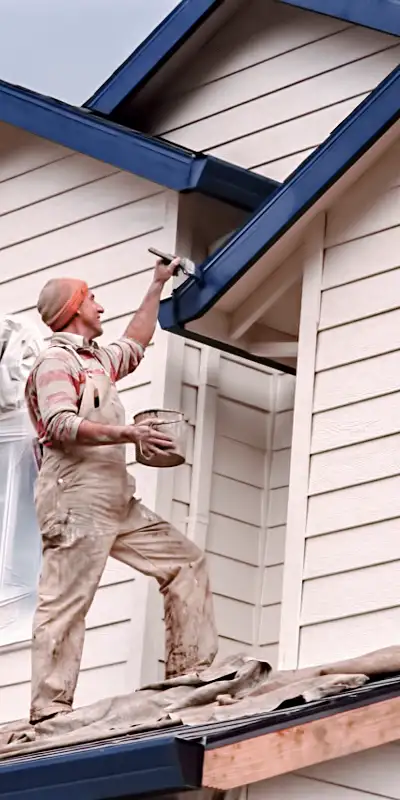 Regardless of whether you're selling your home or just living in it, exterior painting can add a substantial amount of value to your property. Buyers are drawn to a home that looks clean and well-maintained.
When you trust us to paint the exterior of your home, you can be confident you will receive excellent workmanship. Our painters only use quality paints from trusted brands that will last for decades.
Don't hesitate to reach out to us for any of your residential painting needs. We would be happy to help you decide which paint is right for your home's exterior and take care of the whole process from start to finish.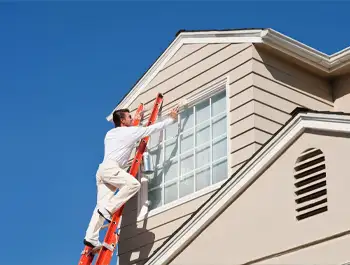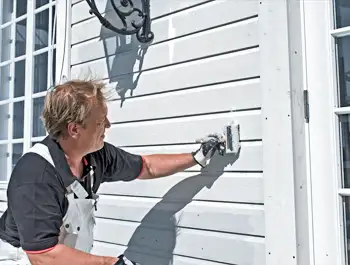 Our Exterior Painting Services Offers Include:
Exterior House Painting
Front Door Refinishing
Siding Painting
Power Washing
Deck Staining and Painting
Caulking
Fence Painting and Staining
Small Repairs & Scraping
Elevate Your Curb Appeal with a Fresh Coat of Paint
The exterior of your home is the first impression you make on visitors and passersby. Make it a lasting one with our expert exterior painting service.
Custom Color Expertise
Choosing the perfect color can be a daunting task. Our experienced color consultants are here to guide you through the process, helping you select shades that complement your style and the architectural elements of your home.
Professional Surface Preparation
Achieving a flawless finish starts with proper preparation. Our team meticulously prepares surfaces, addressing imperfections and ensuring the paint adheres seamlessly for long-lasting results.
Our Comprehensive Exterior Painting Process
At ProGeneralService, we take pride in our detailed approach to exterior painting, delivering results that exceed expectations.
Thorough Inspection

We begin with a thorough inspection of your home's exterior, identifying any areas that may require special attention. This enables us to develop a tailored painting plan that suits your needs.

Surface Preparation

Our skilled painters take the time to clean, repair, and prime surfaces before painting. This step ensures a smooth canvas that allows the paint to bond effectively, resulting in a beautiful and durable finish.

Expert Application

Using top-quality paints and equipment, our painters skillfully apply coats of paint, taking care to achieve even coverage and a flawless appearance.
The Benefits of Professional Exterior Painting
Investing in professional exterior painting offers more than just aesthetic improvement.
Enhanced Protection
Our high-quality paints provide an additional layer of protection against the elements, safeguarding your home's exterior from weathering, UV rays, and moisture.
Increased Property Value
A well-maintained exterior adds significant value to your property. Our expert painting services can contribute to boosting the overall worth of your home.
Long-Lasting Beauty
With proper preparation and quality materials, our exterior painting ensures a beautiful finish that retains its vibrancy for years to come.
Experience Excellence in Exterior Painting
Ready to transform the look of your home? Partner with ProGeneralService for professional exterior painting that brings your vision to life. Our team is committed to delivering impeccable results that enhance the beauty and value of your property.
Contact ProGeneralService Today!
Send us your contact information in the form below and our representative will call or email you within 15 minutes (during regular business hours).
Request Appointment
FAQ
Common Questions
Can I request specific finishes or textures?
Absolutely, our Custom Finishes service allows you to request unique textures and effects that align with your design vision.
How long does an interior painting project typically take?
The timeline varies based on the size of the space and the complexity of the project. Our team will provide an estimated timeframe during the consultation.
Do I need to move furniture before painting?
We recommend moving furniture away from walls to ensure proper access. However, we also provide furniture moving services for your convenience.
Will painting disrupt my daily routine?
We make every effort to minimize disruption. Our efficient methods ensure a swift process with minimal inconvenience.
How do I select the right colors for my interior?
Our Color Consultation service helps you choose colors that complement your style and space, ensuring a cohesive and pleasing result.
Is your service suitable for both residential and commercial properties?
Certainly! Our Exterior Painting Service caters to both homes and various commercial properties seeking a fresh, appealing look.