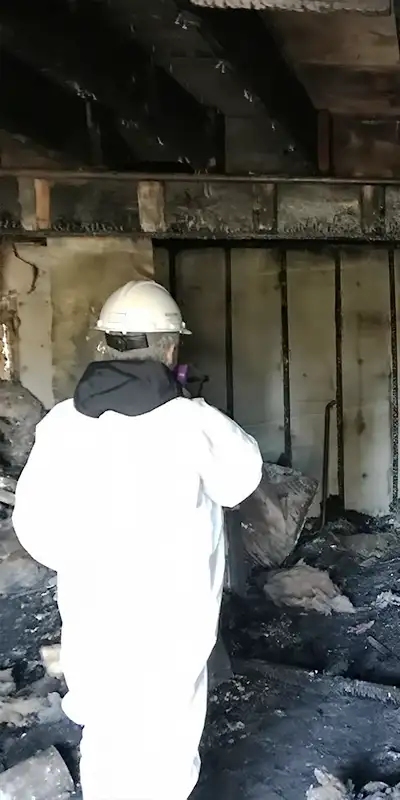 Experience the hope and transformation that ProGeneralService's Fire Damage Restoration services bring to those affected by fire incidents. We understand the emotional toll such events can take, and our mission is to provide expert restoration that not only repairs physical damage but also helps you rebuild and restore your sense of normalcy.
Our skilled restoration team brings expertise, compassion, and dedication to every project. We employ advanced techniques and equipment to ensure a thorough restoration process that addresses fire damage, smoke residue, and water damage. With our guidance and support, your property can rise from the ashes, renewed and ready to welcome you back.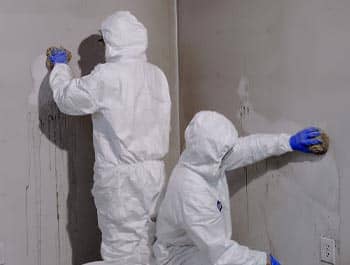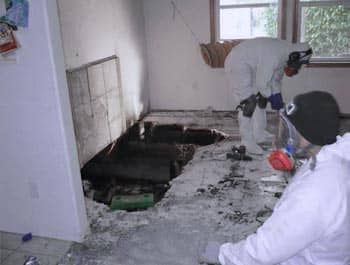 How Our Business Will Help You
The main issue with fire damage and cleaning up after it is how fast the effects can settle. The longer you wait, the harder it will be to deal with the damage that was implemented. Therefore, immediate action needs to be taken to ensure you can go back to living your life normally.
Basically, the smoke that resulted from the fire is one of the things that can give you and the team coming to your aid a hard time. It will not only settle on certain surfaces, but this will also result in way more damage than the fire itself has done. In addition, as flooring and furniture contain synthetic materials, a fire may cause them to have a chemical reaction. When this happens, the damage may not be able to be fixed unless the reaction is treated properly.
Fire damage can't be simply removed by your efforts. Only someone who has experience and knowledge can do it properly. When disaster strikes and your property is affected by fire, ProGeneralService is here to provide you with comprehensive fire damage restoration services. Our fire & smoke damage restoration professionals have been trained to deal with the aftermath of a fire that took place in a house. Our experienced team understands the emotional and physical toll that fire can take, and we are committed to restoring not just your property, but also your peace of mind.
Rebuilding Lives, One Step at a Time
Fire damage can be overwhelming, but with the right restoration partner, you can rebuild your life and property with confidence.
Immediate Response
We know that time is of the essence. Our rapid response team is available 24/7 to assess the damage and create a customized restoration plan tailored to your specific needs.
Comprehensive Restoration
From cleaning and salvaging belongings to structural repairs, our fire damage restoration services cover every aspect of recovery. Our goal is to bring your property back to its pre-fire condition as efficiently as possible.
The ProGeneralService Fire Damage Restoration Process
Our step-by-step approach to fire damage restoration ensures that no detail is overlooked, and your property is restored to its former glory.
Assessment and Planning

We begin with a thorough assessment of the damage, taking into account both visible and hidden effects of the fire. This assessment guides our restoration plan, ensuring every aspect is addressed.

Cleaning and Salvage

Our team carefully cleans and salvages items that can be saved. We use specialized techniques and equipment to remove soot, smoke, and odors, breathing new life into your belongings.

Structural Repairs

From rebuilding walls to replacing damaged structural elements, our skilled craftsmen ensure that your property is not just restored, but also strengthened.
The Benefits of Professional Fire Damage Restoration
Choosing professional restoration services offers numerous advantages during a challenging time.
Comprehensive Solutions
Our all-inclusive approach means that you don't have to deal with multiple contractors. We handle everything, allowing you to focus on moving forward.
Reduced Stress
Dealing with the aftermath of a fire is stressful enough. Our experienced team takes the burden off your shoulders, guiding you through the restoration process with care and expertise.
Safety and Expertise
Fire damage can lead to structural issues and hazardous conditions. Our experts are trained to address these challenges safely and effectively.
Restoring Hope and Homes with ProGeneralService
In the face of fire damage, let ProGeneralService be your beacon of hope. Our compassionate team is dedicated to restoring your property and your peace of mind. Contact us today to start the journey toward recovery.
Contact ProGeneralService Today!
Send us your contact information in the form below and our representative will call or email you within 15 minutes (during regular business hours).
Request Appointment
FAQ
Common Questions
Do you work with insurance companies?
Yes, we have experience working with insurance companies to help streamline the restoration process and ensure a smooth experience for you.
Will the smell of smoke ever go away?
Just because the smoke residue has been removed doesn't mean your home will smell like it did before the fire. But the pros at ProGeneralService have the tools and techniques to permanently remove the smell of smoke from your home.
Do I really need a professional cleanup? Or can I repair the damage myself?
Fire and smoke cleanup is not a do-it-yourself project. Even if your home did not sustain major structural damage, specific tools and techniques are necessary to remove smoke residue. If you make an oversight, a subsequent fire could start, and your insurance company might dispute your claim, arguing that your own negligence was a contributing factor.
Why is smoke residue just as dangerous as the flames of a fire?
Smoke residue is just as dangerous as the flames of a fire. Smoke inhalation can cause respiratory problems, and the residue can also be toxic. This residue is actually unspent fuel and sets the foundation for a subsequent fire.
What happens to items that are beyond repair?
Items that cannot be salvaged will be properly disposed of in accordance with regulations, ensuring a safe and clean environment.
Can you handle both residential and commercial fire damage restoration?
Absolutely! Our Fire Damage Restoration services cater to both homes and businesses seeking comprehensive restoration solutions.